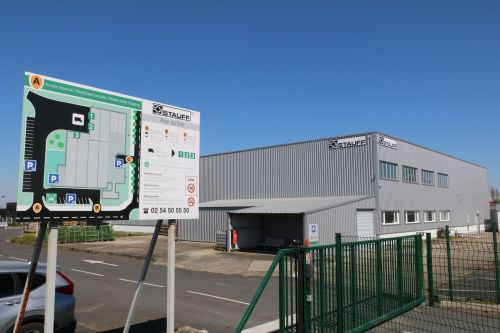 France
Vineuil
STAUFF S.A.S.
230, Avenue du Grain d'Or
41350 Vineuil
In response to the growing demand of both the domestic and international markets for metric tube connectors of the STAUFF Connect series, STAUFF has already commissioned another state-of-the-art rotary transfer machine at its Werdohl headquarters and manufacturing site at the end of the second quarter of 2021.
The fully automated production unit processes forged steel blanks into L-shaped and T-shaped hydraulic connectors of all common sizes and designs. The individually programmable CNC control of these machines, the fully automatic clamping of the blanks and removal of the finished parts as well as the easy accessibility of the machining stations for short set-up times and quick tool changes optimise the production processes and guarantee a consistently high product quality.
With the new rotary transfer machine, STAUFF is gradually expanding its production capacities for tube connectors in small and medium sizes from 8L / 8S to 18L. Standard and special parts with batch sizes from about 5,000 pieces per production run can be manufactured.
For the production of significantly smaller to medium quantities, STAUFF operates several CNC turning centres at the Werdohl Ehrenfeld site, which, in addition to the manufacture of standard parts according to the product catalogue, also enable the production of customer and application-specific product variants, e.g. with deviating connection threads, in special lengths or jump sizes, at highly competitve conditions.
Hydraulic Tube Connectors of the STAUFF Connect Series
The STAUFF Connect product group is closely aligned with the market requirements and contains an extensive range of hydraulic tube connectors made of carbon steel for metric tubes with outer diameters ranging from 4 to 42 mm in accordance with ISO 8434-1 and DIN 2353 respectively.
The product range is completed by check and alternating valves for inline installation, thread reducers as well as blanking plugs and screws.
Automated assembly machinery and hardened, wear-resistant tools can be provided with a range of testing and inspection equipment and enable the reliable assembly of tube connectors – both for series production in the workshop and on-site.
Because of its versatility and flexibility, the STAUFF Form EVO tube forming system is undoubtedly the best solution for series production, in particular for applications with highest requirements with regards to safety, reliability and repeatability as well as process stability.